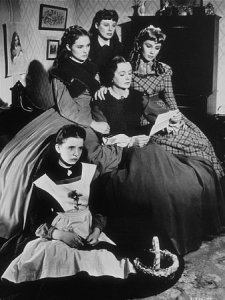 Last night, I watched 1949 "Little Women" on cable. It has June Allyson as Jo, Janet Leigh as Meg, blonde Elizabeth Taylor as Amy and Margaret O'Brien as Beth. At that time, these were huge stars, even Margaret O'Brien was known child actress. The 1994 version with Susan Sarandon, Winona Ryder, Kirsten Dunst, and Christian Bale is also a fabulous movie.
I loved Louisa May Alcott's "Little Women" series when I was young. I remember hunting for "Little Men" and "Jo's Boys" at the library.
To those who are not familiar with the story, it's about a family of four sisters in New England in 1860's. The father has gone to fight in the Civil War and the mother, Marmie, holds the family together.
The central character is Jo, whom Louisa May Alcott based on herself. Jo is a self-assured tomboy and a creative writer. Meg softer and longs for pretty things, but bears the weight of being the eldest in the family. Beth is kind, generous and musically inclined. And, Amy is the youngest, free spirit and self-absorbed.
This is a great story of relationships within a family and outside. Yes, things are rosy sometimes and more often than not, they aren't. Also, the sibling relationship is so unique where brothers/sisters are close to each other to hurt them, but then also forgive and move on.
When I read these books I identified with Jo's passion for writing and storytelling. In the movie, June Allyson's Jo is telling Laurie why it's important for her to write and he doesn't get it. She writes in the garrett of their house, seeking her private space.
I also identified with Meg since I was the oldest in my family and you forever have to be "responsible" for others and set an example.
As for Amy, she makes me so mad. If anyone in literature deserved a slapping it would be Amy March for throwing Jo's manuscripts into the fire in a spoiled tantrum. Actually, there are many moments when selfish Amy should've been disciplined. (Come on, Marmee, wake up!)
Beth.. yes, dear kind Beth. My favorite scene about Beth is on "Friends" believe it or not.
Joey is reading "Little Women." He's enjoying the book and Rachel asks, "Did you get to the part where Beth dies yet?" He stops. He chokes, "Beth dies? How could Beth die!?" Then Rachel comforts him and takes the book and puts it in the freezer. Everyone loves Beth.
By the way, I tried to read "Little Women" again about 6-7 years ago. Somehow, I couldn't get through it. It didn't flow and seemed forced. However, it's probably because these characters are already embedded in my consciousness, I couldn't reintroduce myself to them if I tried.
We're all like Laurie - watching the March family from a window and wanting to be part of them.