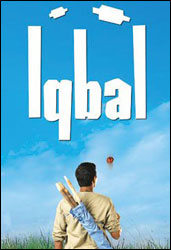 Indian cinema is truly taking off with force now. When you let the filmmakers loose, it's amazing what they can do.
Iqbal
I know nothing about cricket. When the movie was three-quarters completed, I asked my husband "When the little thing falls off the sticks, is it a strike?" (Yes).
We really enjoyed this movie for all the other elements it offers. Iqbal is a boy with a talent for cricket, who faces many challenges to achieve his dream – his deafness, his father's intolerance toward the sport, social prejudices, and unethical dealings in the sport.
Having worked with the deaf community years ago, I am drawn toward such stories. I was impressed with the sign language skills of the actors; it's often easily faked in movies. On the DVD interviews, Director Nagesh Kukunoor mentions that this was important to him. His challenge was to find an actor who could act, play cricket and sign, which he did.
By the way, I'm a fan of Kukunoor's "Teen Dewaar" (Three Walls). The story was tight, the film moved quickly and we didn't expect the outcome. No one seemed to have seen "Bollywood Calling," a movie that I enjoyed a lot for it's peek into the "filmy" world.
His stories are real and very well-written.
Being Cyrus

Was this movie made in India? Did Saif Ali Khan go through an entire movie without a song? This was a well-written and directed movie, but definitely not a movie for everyone.
The first point where it stands out is that the film is in English, focusing on Parsi characters. The film follows a narrative led by Cyrus, recapping recent events. The audience believes what he says, but there are many things that he doesn't say. There are continuous flashbacks and hallucinations. These can be disturbing and confusing, to say the least.
There is a twist at the end – actually, it's more than a twist, it's a braid. So at the end, I wanted to watch it again and look for all the clues that I missed. Cyrus has a lot of angst and it is at the end it all makes sense. It's a dark movie, and there is violence – though thankfully not as graphic as it could be.
I though Saif did a great job, but I think the director Homi Adajania was outstanding.
Naseerudin Shah gives a wonderful performance as a stoned sculptor. He was in "Iqbal" as well, as an ex-cricketer turned coach and supporter for Iqbal. And, Dimple is so exciting to watch these days, playing real people.
The one line repeated three times was at the end of a chess game, "the king and pawn go back into the same box." Yes, that's a nice line. There was another line that was powerful. Dinshaw (Shah) points to white flowers that are growing inside a well. He said "God is in the details." Katy (Dimple) responds, "If God is in the details, who is looking at the big picture." (Not exact quote, apologies to Adajania)
That's what this movie is about – the details. Follow the details and only at the end can you see the big picture.
Another thought about this movie is the name. "Being Cyrus"has an obvious echo to "Being John Malkovitch," which I loved. "Being John Malkovitch" was about puppetry, controlling another person's thoughts and actions. At the highest level, "Being Cyrus" has the same theme.