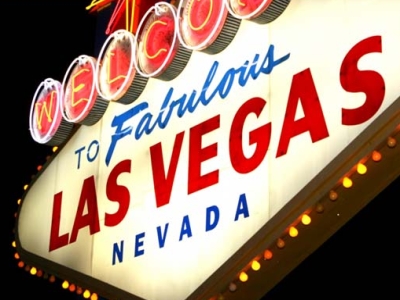 I recently had my first trip to Las Vegas and it was definitely interesting! I've been wanting to go for so long and never had the opportunity. My husband has to go there frequently for business, so he doesn't see it as a vacation spot. Since it was an elusive destination for me, it obviously becomes more enticing. My husband once read a quiz to me: "What is your dream vacation? A. an island retreat B. European tour C. weekend in Las Vegas". He was surprised when I said Las Vegas. Of course I would've said Europe, but I pointed out Las Vegas because I hadn't been there yet!
The first surprise to me was the airport is adjacent to the main strip. Most cities are built first and then they had to squeeze in an airport somewhere outside of the city. Given the Las Vegas location in the middle of nowhere in the desert, there was plenty of space for an airport. Airport itself is ordinary, but I wanted to stay in the baggage claim area of airport and just people watch! What a diversity of people congregating here. There was a man and his son wearing slick cowboy hats and they had a special hat case
carrier
. I reminded myself i was in the southwest now, not northeast, where cowboy hats are haute couture. But, lo and behold! There are a couple of Staten Island guys sporting the gelled and sprayed "Jersey Shore" hair and talking on their cell phones. (Note: I did see a Snookie lookalike at one of the hotels) There were Europeans and American families, each can be distinguished by their fashion sense.
Las Vegas is like a magnet that draws people from all over the world. Everyone there is essentially a tourist. That's why everything can stay there because people will just go away and back to their normal lives wherever they live. It's a bit bizarre to realize the whole downtown city functions for one reason - tourism.
I was excited to see the hotels and architecture there. I remember my husband telling me about New York, New York and how they recreated the Statue of Liberty and other buildings. I've seen pictures of the Venetian with its bridges. A colleague has night shots of The Excalibur hotel as his screensaver.
However, when I went there, I felt like it was cardboard. Nothing seemed solid. I've seen all these places in real life and it seemed too artificial to me. Folks say you have to see attention to detail, and I agree that is incredible. I loved the Luxor's pyramid and was absolutely blown away by the interior with its unfathomably high ceilings and Egyptian details. I did fantasize for a minute with the idea of being a casino designer. I could definitely improve on Trump's Taj in Atlantic City with its cheezy New Delhi Deli.
Couple of my tips:
Ask, and ye shall receive, else you don't:
I indulged in The Bathhouse spa at THE hotel. I have to point out I had been scoping out different spas and looking for good deals. After chatting with one of the employees, he had told me about a 'buy one get one 1/2 off" on their services. Awesome! The next day I came for my services and received the bill for the full price on two. I questioned it and got it adjusted. So, this "deal" is only available if you know about it. It wasn't an automatic discount you received, so all the other women who were there that day paid full price. (Caveat Emptor!)
Don't let appearances fool you
: So, we were getting really hungry for lunch after walking around a bit. We finally settled on a burger type joint with outdoor seating. We got really lame and ordinary sandwiches for $13 (fries would've been $4 extra had we not been health conscious). We've had better sandwiches at the convenient store. Fortified with a little bit of food, we ventured to the Bellagio. We saw the posh cafes inside the old European settings. Sandwiches were $10-13 each and actually appetizing on fresh bread and gourmet ingredients. We assumed the hotels would be expensive, but if the roadside joints are selling for the same price, might as wll go upscale.
Don't let appeareances fool you (Part II)
: We saw a few shows - Lifehouse, Criss Angel & The Divas (female impersonators of celebrities). We had gotten the tickets for the Divas from someone and when we went to the casino, we were turned off. It was older casino and had smell of smoke and mustiness. The crowd there was not the Bellagio crowd. We had our concerns about going there later, but decided to go. We even dressed down because we figured our clothes would stink. However, the show was a lot of fun. The dancers were extremely good and the performers were memorable. For an hour or so, we just enjoyed the impersonators who brought the celebrities to us.
It's Disney World for grownups:
Yes, Vegas is the new family hotspot, but I'd be hestitant about bringing children there. Hotels such as the Mandalay Bay are ideal - huge pool area, and "Lion King" and Colby Caillat performances. At some point, one is going to have to leave the hotel to go to neat attractions such as Bellagio's fountains and Mirage's volcano. However, you're going to walk down "the Strip" and see billboards for adult shows, alcohol promotions and Mexicans workers handing out flyers for call girls. You could plan to be strategic, but I'm not sure how much fun it would be for adults or the children.
And, then we left the city and headed out to Hoover Dam. I haven't been to American southwest before so it's just exciting to see mountains of boulders. I'm used to Pennsylvania's rolling green hills. To see these jagged dry rocks was amazing. It is awesome because of the little geology that I know, the earth's pallettes shift and when they come together, mountains and canyons are created. I felt as if there was a lot of energy released from the earth, but it was simply forgotten. We thought of going to the Grand Canyon, but time didn't permit us to.
We ended my trip with drinks atop The Mixx, a rooftop restaurant/bar on the 62nd floor of the hotel. We looked out over the city with its lights and contstant movement. I do hope to return there one day!